SEDAGEL, 250 g.
IMPROVEMENT OF PSYCHOEMOTIONAL STATE
Article: 910404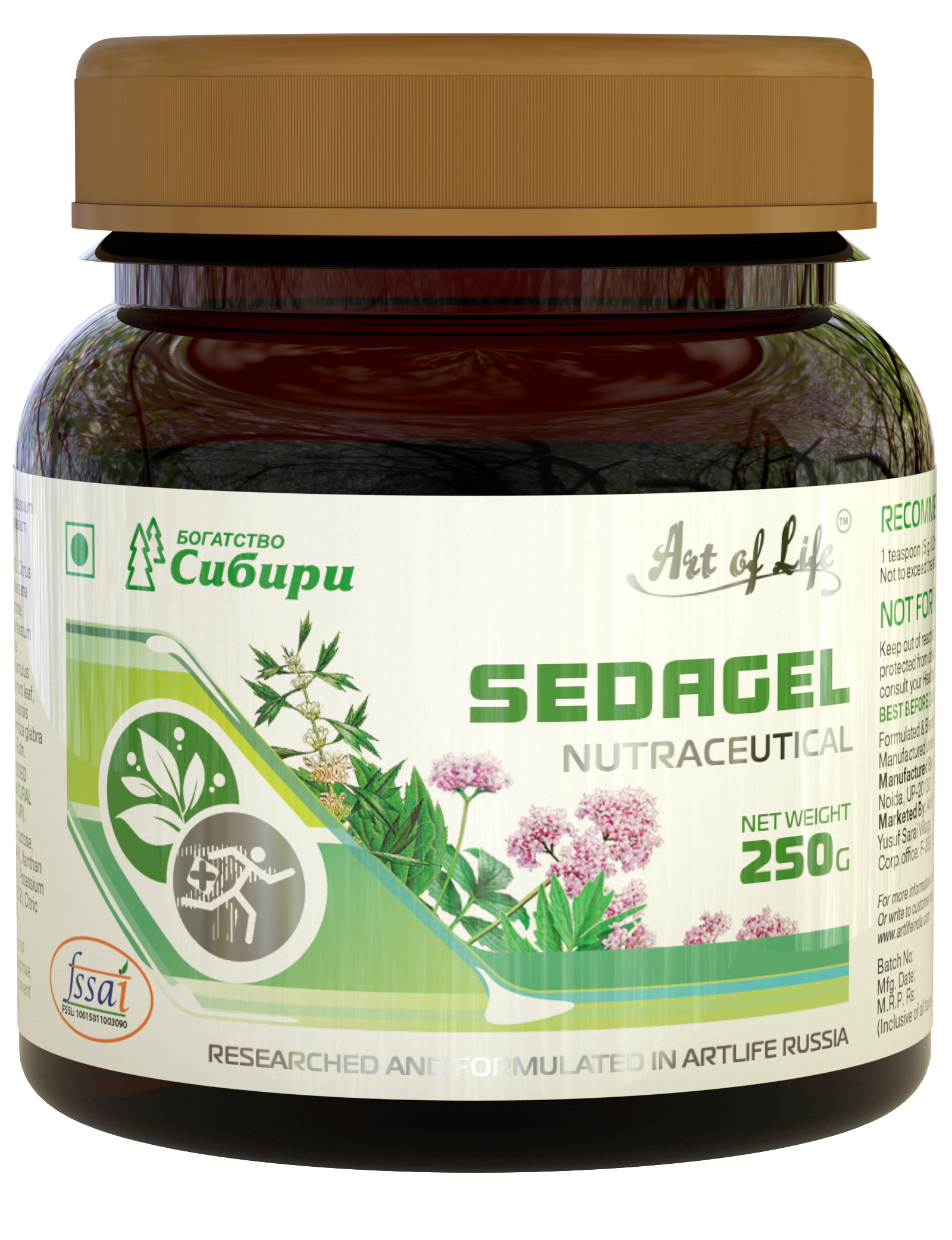 Improves sleep and sleep quality.
Enhances the stress resistance.
Reduces irritability and nervousness.
Description
Sedagel helps quickly normalize the functions of central nervous system and improve sleep quality due to mild soothing and sedative effect.

Unique plant composition:
Hops (Humulus lupulus), Valeriana root (Valeriana jatamansi rhizome), Saint John's wort leaf (Hypericum perforatum leaf) and Garden mint leaf (Spearmint leaf) normalizes the work of the cardiovascular, nervous, digestive and genitourinary systems, has a pronounced sedative effect, is effective in nervous disorders, stress, depression.
Chamomile flowers (Matricaria chamomilla) provide anti-inflammatory, anesthetic, antispas-modic, strengthen the regenerative processes in the body.
Garden mint leaf (Spearmint leaf) relieves emotional tension, helps with fatigue and stress.
Scutellaria bicalensis extract a natural stimulant and a tonic, has pronounced hypotensive and soothing properties.
Glycine reduces psychoemotional stress, increases mental performance.
Magnesium normalizes nervous system work.
Rutin increases the elasticity of the walls of blood vessels.

Composition
Nutrients:
Minerals: Potassium, Magnesium
Other ingredients: Citrus food fibers, Valeriana jatamansi rhizome, Hypericum perforatum leaf, Matricaria chamomilla, Humulus lupulus, Spearmint leaf, Scutellaria bicalensis extract, Glycyrrhiza glabra root, Glycine, Rutin.
Applying
Recommended usage: 1 teaspoon (5 g.) 2 times a day with meal. Not to exceed the stated recommended daily allowance.