PANBIOLACT, 60 caps.
A PROBIOTIC COMPLEX FOR THE NORMALIZATION OF DIGESTION
Article: 910339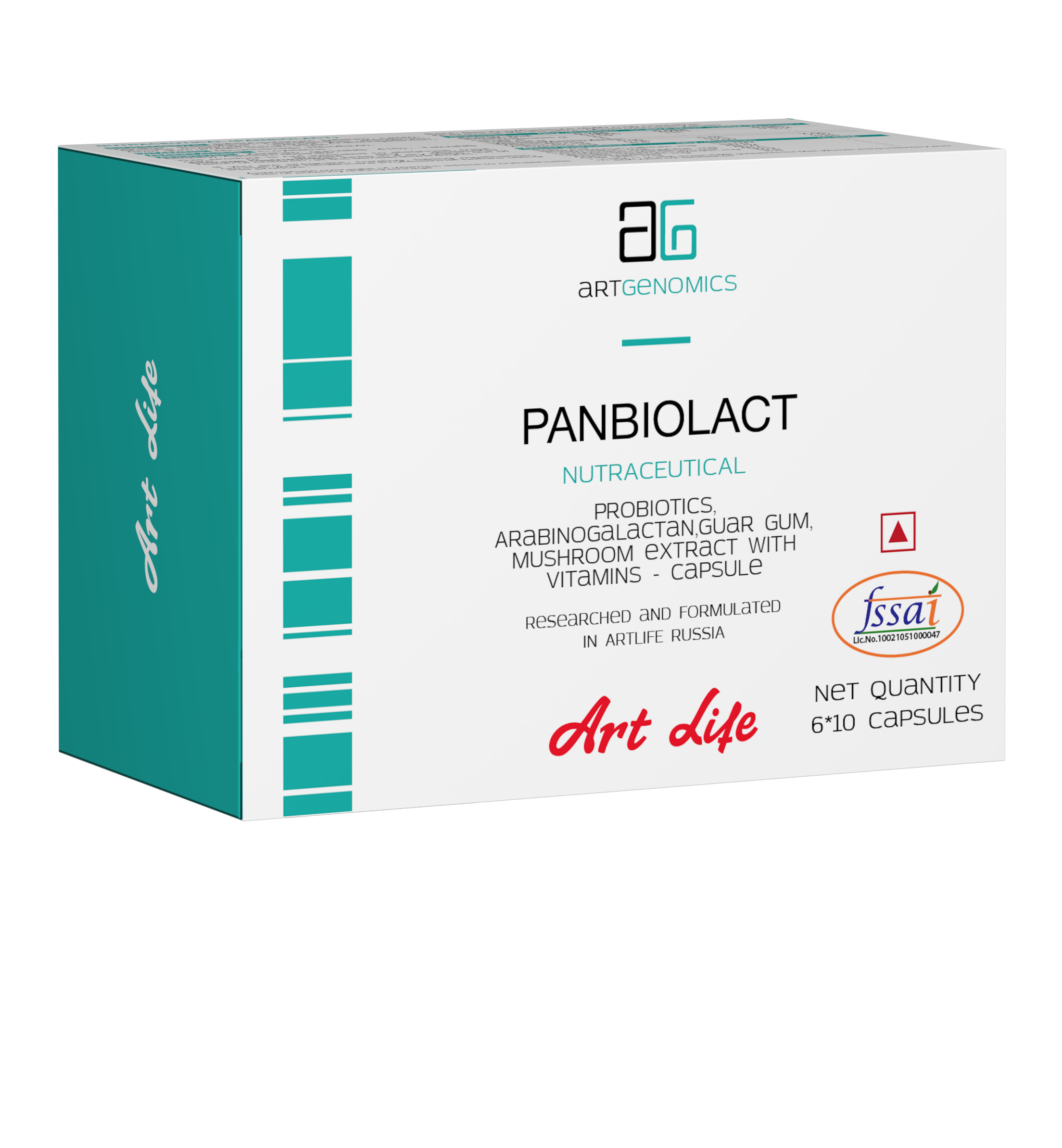 Help in nutritional support for dysbiosis in adults and children 14+ years old.
The "leaky bowel" syndrome – increased permeability of the intestinal epithelial barrier
Immunocorrection
Description
In the human intestines, there are a lot of bacterias, that help keep the digestive system healthy.
When their balance is disturbed, the process of food digestion also will be disturbed. This bal-ance disturbance may manifest as indigestion, loss of appetite, anemia, frequent diseases and skin problems. Sometimes the imbalance of microflora manifests itself as "leaky bowel syndrome". In case of mentioned syndrome, vitamins and microelements are not absorbed and it may cause allergic reactions.

What may cause dysbiosis: taking antibiotics, intestinal infections, digestive tract diseases, poor nutrition, vitamin deficiency and food allergies.

ACTIVE INGREDIENTS:
The useful bifidobacteria and lactobacilli, contained in Panbiolact complex normalize the intestinal microflora, help to increase the intestinal permeability barrier, and help to restore the normal digestion.
Probiotic bacterias, contained in Panbiolact complex, are grown in a lactose-free medium and are hypoallergenic.
The prebiotics, contained in capsules, contribute to a good survival rate of bacterias.
B group vitamins stimulate the regeneration of tissues,
Shiitake mushroom extract con-tains lentinan polysaccharides, which have immunomodulatory and antitumor properties.
All active ingredients are placed in microcapsules. This fact allows them to be released in right organ of body and in the right sequence.

Composition
Nutrients
Vitamins: vitamin B3, vitamin B2
Other ingredients: Inulin, Bifidobacterium bifidum, Potato starch Lactobacillus acidophilus, Lactobacillus plantarum, Shiitake mushroom extract, Arabinogalactan, L-cysteine, Guar gum
Applying
Recommended usage:
take 1 Capsule 2 times a day with meal or as suggested by the Healthcare Professional. Course duration – 1 month