OLEOPREN CORDA (6*10 softgel caps)
AN ACTIVE SUPPORT FOR HEART MUSCLES
Article: 910327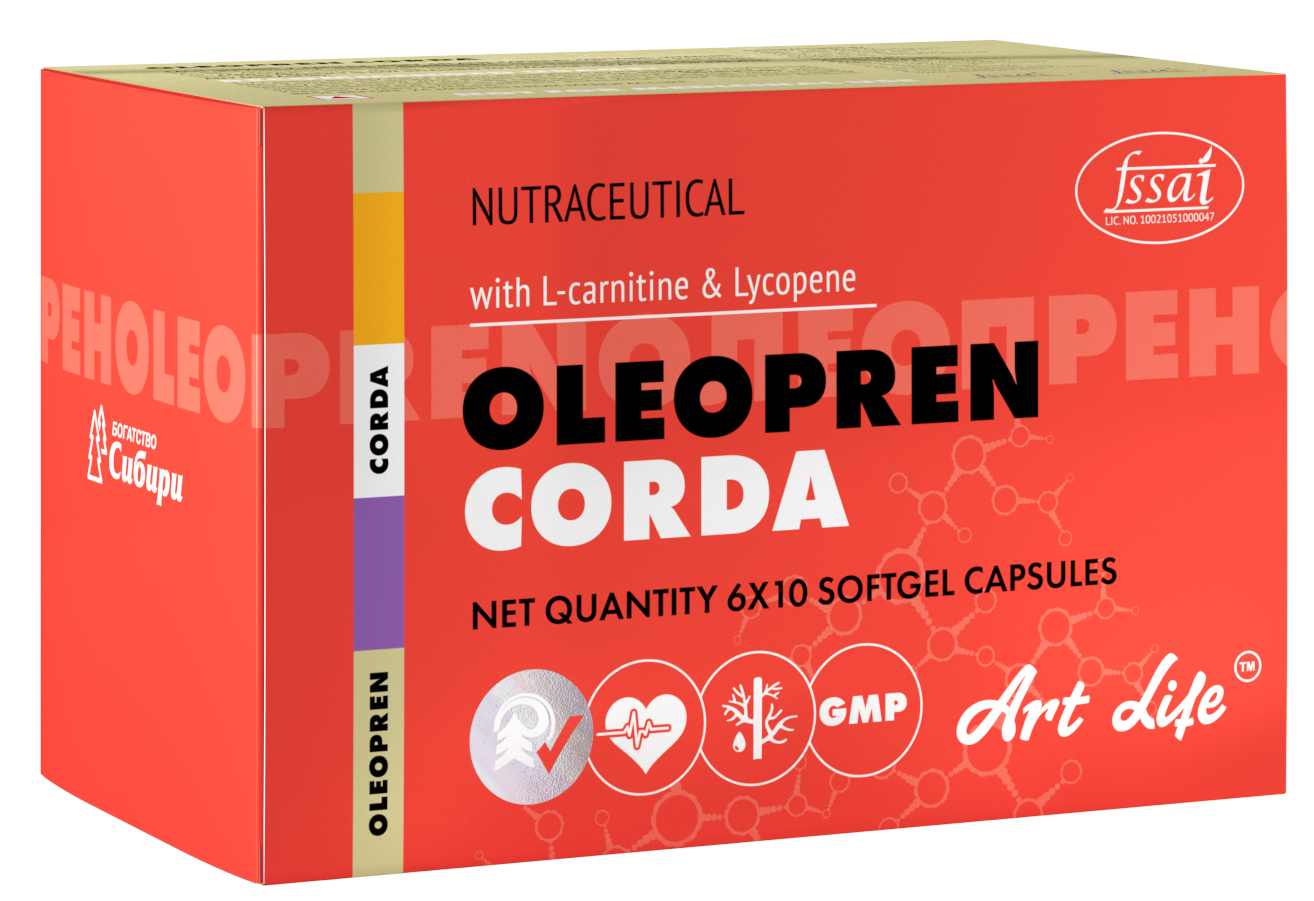 Stimulates the regeneration of heart cells.
Protects from negative impacts of free radicals.
Provides nutritional support for heart muscles.
Normalizes cholesterol level.
Provides prophylaxis of myocardial infarction.
Description
A cardioprotector of new generation on the basis of micro powder of Himalayan fir. This bioactive complex allows to fully protect and restore the cell membrane of cardiomyocytes at different damage levels, activates the processes of protein synthesis, improves the function of immune system, and protects from oxidative stress.

ACTIVE INGREDIENTS:
Abies spectabilis is one of the oldest plants in the world, which has high resistance to weather conditions, diseases and regenerative capability. Throughout many centuries, Himalayan fir has used for the treatment and prophylaxis of different diseases. Himalayan fir needles are a real and rich source of useful substances and vitamins. They contains vitamin C, beta-carotene, essential oils, micro- and macro elements, tannins, flavonoids, polyunsaturated fatty acids and phyton-cides. Himalayan fir has many very essential healing properties: antiseptic, tonic, general health improving, antiscorbutic, soothing, bactericidal, anti inflammatory, analgesic, regenerating and so on. The biologically active substances contained in the Himalayan fir, have a positive effect on the nervous and cardiovascular systems, and are able to improve the functions of gastrointestinal tract.
L-Carnitine stimulates the process of hematopoiesis. It is an important carrier of fatty acids in body, which provides a good nutritional support for heart muscles.
Lycopene is a strong antioxidant, reduces the intensity of cholesterol oxidation processes, and prevents its accumulation in arterial cells.
Vitamin E is one of the most strong antioxidants, which protects various endogenous substanc-es of body against oxidation. It inhibits lipid peroxidation, that can be activated in case of many diseases. It takes part in the tissue respiration processes, biosynthesis of heme and proteins, fats and hydrocarbon metabolisms, cell proliferation process and so on.

Composition
Nutrients:
Vitamins: DL-alpha-tocopheryl acetate 4.0 mg 40 %
Other ingredients: Sun flower oil, Abies spectabilis leaves micropowder, L-Carnitine, Lycopene
Applying
Recommended usage: 1-2 capsule per day with a meal or as suggested by the healthcare professional.