Mix Fruit Kissel (Cranberry,Pomegranate), 500 gm.
FRUCTOSE KISSEL WITH VITAMINS AND CHIA SEEDS
Article: 910022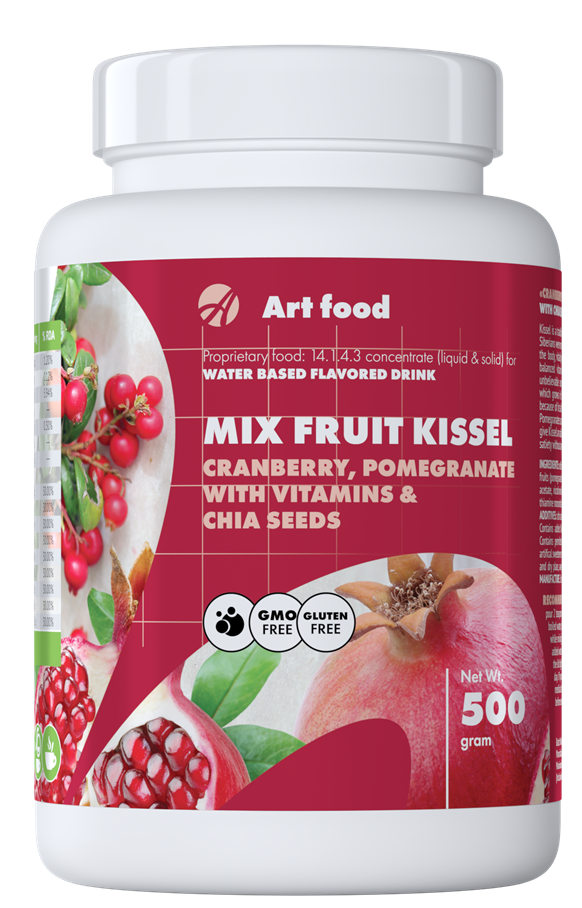 Kissel is a traditional thick and nutritious drink of Siberian people. Siberians were making this drink for the purpose of strengthening of the body, vitality and health care. Natural berries and fruits provide unique and rich taste of Kissel.
Description
Cranberry is a wild berry, that grows in Siberia. Ancients named cranberry "balls of life energy" because of its capacity to enhance physical and mental activities.
Pomegranate contains useful substances for your health and helps you stay young.
Composition
Nutrients:
Energy 32.70 kcal
Protein Carbohydrate, Fat, Food, Fiber Organic acids
VITAMINS: Vitamin C, Vitamin B3, Vitamin E, Vitamin B6, Vitamin B2, Vitamin B1, Vitamin A, Vitamin B9, Vitamin B12
OTHER INGREDIENTS:
Potato Starch, Fructose, Lactose, Chia Seeds, Pomegranate Juice Dry Powder, Cranberry Juice Dry Powder

Applying
Recommended usage: pour 2 teaspoons (10 g) of kissel into a glass (200 ml), add some cold boiled water, dissolve granules and add remained hot water (96-98°C) while mixing.
Taste intensity and thickness depend on the amount of added water. It is advisable to use a dry spoon for serving kissel. Close the lid tightly after each use.