ARTLIFE HONEY & ALMOND OIL BODY WASH
Artlife Honey & Almond Oil Body Wash 200ml
Article: 810008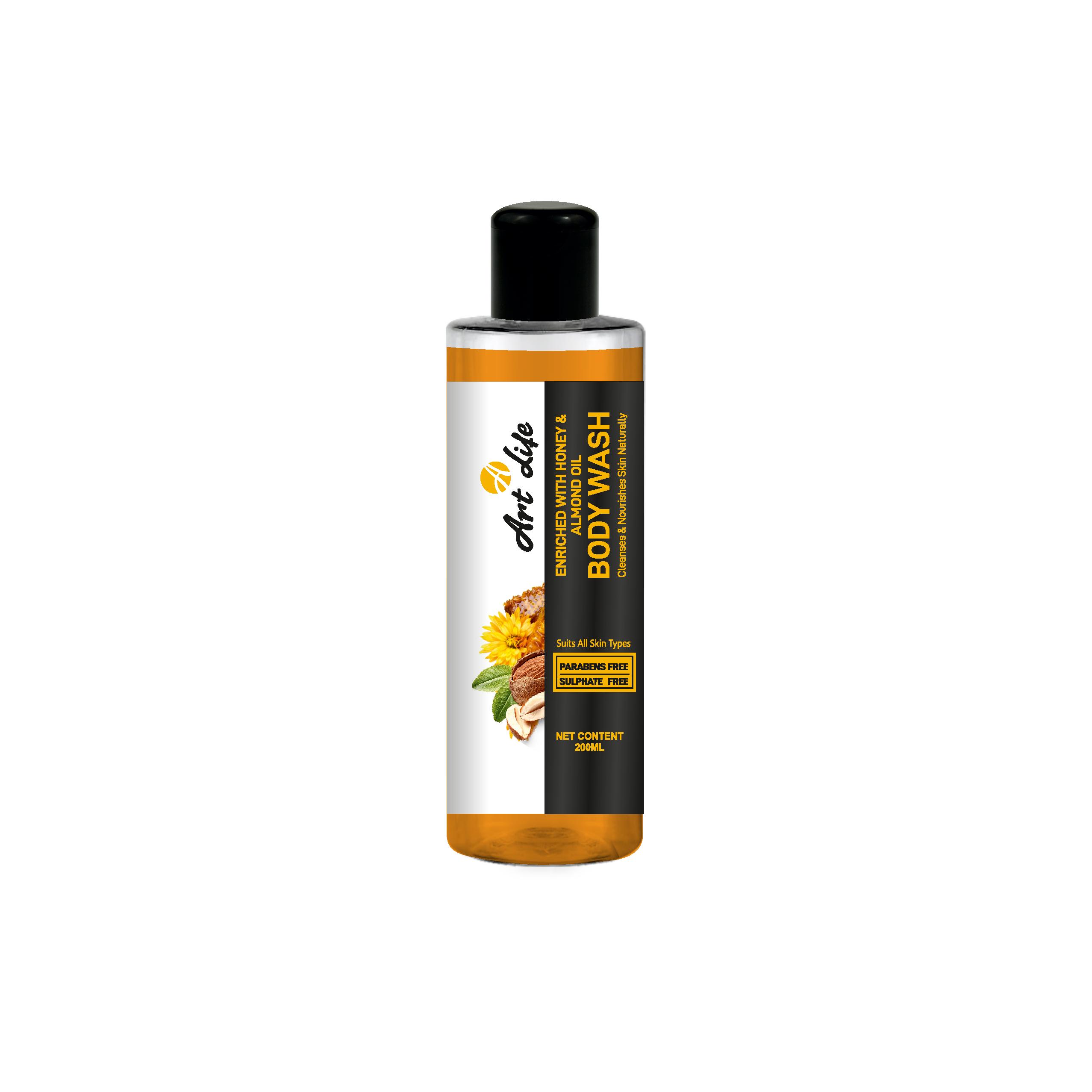 Moisturize your skin.
Reduce Tanning from skin.
Anti Ageing Benefits.
Description
Experience the bath of pleasure with intense moisturization of honey delicately blended with nourishing almond. Enriched with organic almond milk leaves skin feeling soft, clean and cared.

Benefits of Key Ingredients:-

Honey :- Richness of potent enzymes in honey keep our skin moisturize and hydrates naturally.
Its antibacterial and antiseptic abilities benefit moist and acne-prone skin. Honey makes the skin look soft, glowing and radiant.

Almond Oil :- it has emollient properties to treat dry skin conditions, improve both complexion and skin tone including eczema and psoriasis. Almond oil gets soaked in our skin quickly, which makes it a powerful and effective moisturizer. Almond oil contains all sorts of natural goodness that includes vitamin E, vitamin A, essential fatty acids, proteins, potassium, and zinc. It's positively packed with the vitamins and nutrients, making it perfect to include in your daily skincare regime

Olive Oil :- Olive oil acts as an antioxidant, which is a substance that prevents oxidation.
reduce aging skin and wrinkles, fade scars by helping skin cells to regenerate.
It also treat hyper pigmentation
Composition
DM WATER, DISODIUM EDTA, ALLANTOIN, GLYCERIN, ZEMEA, DECYL GLUCOSIDE, COCO GLUCOSIDE, KYMF-1, TRIETHANOLAMINE, ALOEVERA EXT POWDER, SODIUM LAUREL SARCOSINATE, COCAMIDOPROPYL BETAINE, MIRANOL ULTRA C-32, PEG-7 GLYCERYL COCOATE, PEG-150 DISTEARATE, OLIVEM-300, ALMOND OIL, EUXYL 9010, HONEY, PERFUME
Applying
Pour Enough amount in hand or loofah and apply over wet body till adequate lather is formed and then rinse off with enough amount of water.